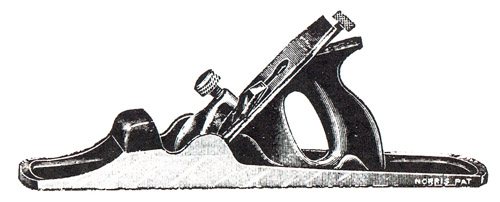 Norris No. 54GS Gunmetal Bench Plane
These (Reg. Design) Improved Planes fitted with the Norris Patent Adjustment and gunmetal lever are first grade tools, well balanced and easy to work. For the general woodworker they are ideal planes and excellent value.
NOTES: Not listed in any known catalogues or price lists.
The non-gunmetal version of this plane was introduced as the Norris No. 54 annealed iron bench plane in the 1928 catalogue. It came with a 2¼ inch cutter.
Like other planes in the '50 series', the cutting iron rests on two metal 'bosses', thus providing great stability. A secondary function of these metal bosses was to secure the closed rear handle, which was sandwiched between them and riveted, screwed or bolted in place. The handle also held the adjuster mechanism.
Levercaps were gunmetal or steel and came with a number of different Norris marks or stamps. The plane is often stamped with the casting registration "REGD NO. 637730" on the toe. Woods used for the handle and bun were either rosewood, walnut or mahogany.

---