Norris Planes: Production Dates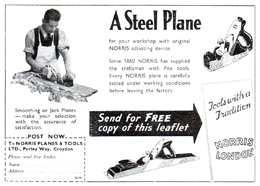 Unfortunately, determining the exact production dates for Norris planes is a difficult thing — mainly due to the fact that there were not many production changes over the years and so few original catalogues and price lists available. In fact as far as I know there are really only three main sources that I have access to, the 1908 price list, the 1914 catalogue and the 1928 catalogue. There are other price lists out there, including one from the mid 1930's and one in the 1940's, but I do not have access to them.
There are also a number of catalogues from resellers, such as Buck & Ryan and others, who offered Norris planes at various stages. This can further muddy the waters as it is not known exactly if the planes were still in production or whether they were merely remaindered stock.
With this in mind I ask you to consider the following list of production dates with a grain of salt.

| Model No. | Plane Type | Production Dates | Additional Notes |
| --- | --- | --- | --- |
| No. 1 | Dovetailed Panel Plane | | |
| No. 1 | Dovetailed Jointing Plane | | |
| No. A1 | Dovetailed Panel Plane | | |
| No. A1 | Dovetailed Jointing Plane | | |
| No. 2 | Dovetailed Smoothing Plane | | |
| No. A2 | Dovetailed Smoothing Plane | | |
| No. 3 | Dovetailed Smoothing Plane | | |
| No. A3 | Dovetailed Smoothing Plane | | |
| No. 4 | Dovetailed Smoothing Plane | | |
| No. A4 | Dovetailed Smoothing Plane | | |
| No. 5 | Dovetailed Smoothing Plane | | |
| No. A5 | Dovetailed Smoothing Plane | | |
| No. 6 | Dovetailed Smoothing Plane | | |
| No. A6 | Dovetailed Smoothing Plane | | |
| No. 7 | Dovetailed Shoulder Plane | | |
| No. A7 | Dovetailed Shoulder Plane | | |
| No. 8 | Dovetailed Rebate Plane | | |
| No. A8 | Dovetailed Rebate Plane | | |
| No. 9 | Dovetailed Duplex Rebate Plane | | |
| No. 10 | Dovetailed Mitre Plane | | |
| No. 11 | Dovetailed Improved Mitre Plane | | |
| No. A11 | Steel Mitre Plane | | |
| No. 12 | Dovetailed Thumb Plane | | |
| No. 12 | Iron Smoothing Plane | | |
| No. A12 | Iron Smoothing Plane | | |
| No. 13 | Malleable Iron Smoothing Plane | | |
| No. A13 | Malleable Iron Smoothing Plane | | |
| No. 13 | Malleable Iron Panel Plane | | |
| No. A13 | Malleable Iron Panel Plane | | |
| No. 14C | Iron Smoothing Plane | | |
| No. A14 | Malleable Iron Smoothing Plane | | |
| No. 14GS | Gunmetal Smoothing Plane | | |
| No. A14GS | Gunmetal Smoothing Plane | | |
| No. 15 | Malleable Iron Smoothing Plane | | |
| No. A15 | Malleable Iron Smoothing Plane | | |
| No. 15GS | Gunmetal Smoothing Plane | | |
| No. A15GS | Gunmetal Smoothing Plane | | |
| No. 16C | Iron Smoothing Plane | | |
| No. 16 | Malleable Iron Smoothing Plane | | |
| No. A16 | Malleable Iron Smoothing Plane | | |
| No. 17 | Gunmetal Smoothing Plane | | |
| No. A17 | Gunmetal Smoothing Plane | | |
| No. 18 | Malleable Iron Shoulder Plane | | |
| No. 19E | Gunmetal Shoulder Plane | | |
| No. 19R | Gunmetal Shoulder Plane | | |
| No. 20E | Gunmetal Shoulder Plane | | |
| No. 20R | Gunmetal Shoulder Plane | | |
| No. 21 | Iron Smoothing Plane | | |
| No. 22 | Malleable Iron Shoulder Plane | | |
| No. A22 | Malleable Iron Shoulder Plane | | |
| No. 23E | Gunmetal Shoulder Plane | | |
| No. 23R | Gunmetal Shoulder Plane | | |
| No. 24E | Gunmetal Shoulder Plane | | |
| No. 24R | Gunmetal Shoulder Plane | | |
| No. 25 | Malleable Iron Bullnose Plane | | |
| No. A25 | Bullnose Plane | | |
| No. 26 | Gunmetal Bullnose Plane | | |
| No. 27 | Gunmetal Bullnose Plane | | |
| No. A27 | Gunmetal Bullnose Plane | | |
| No. 28 | Chariot Plane | | |
| No. A28 | Chariot Plane | | |
| No. 29 | Gunmetal Chariot Plane | | |
| No. 30 | Gunmetal Chariot Plane | | |
| No. 31 | Thumb Plane | | |
| No. A31 | Thumb Plane | | |
| No. 32 | Thumb Plane | | |
| No. 48 | Malleable Iron Smoothing Plane | | |
| No. 49 | Malleable Iron Smoothing Plane | | |
| No. 50 | Iron Smoothing Plane | | |
| No. 50M | Malleable Iron Smoothing Plane | | |
| No. 50G | Gunmetal Smoothing Plane | | |
| No. 50GS | Gunmetal Smoothing Plane | | |
| No. 51 | Iron Smoothing Plane | | |
| No. 51M | Malleable Iron Smoothing Plane | | |
| No. 51GS | Gunmetal Smoothing Plane | | |
| No. 52 | Iron Smoothing Plane | | |
| No. 52M | Malleable Iron Smoothing Plane | | |
| No. 52GS | Gunmetal Smoothing Plane | | |
| No. 53 | Iron Bench Plane | | |
| No. 53M | Malleable Iron Bench Plane | | |
| No. 53GS | Gunmetal Bench Plane | | |
| No. 54 | Annealed Iron Bench Plane | | |
| No. 60 | Annealed Iron Smoothing Plane | | |
| No. 61 | Annealed Iron Smoothing Plane | | |
| No. 64 | Annealed Iron Bench Plane | | |
| No. A70 | Wooden Smoothing Plane | | |
| No. A71 | Wooden Jack Plane | | |
| No. A72 | Wooden Trying Plane | | |
| | Gunmetal Violin Plane | | |

---