Norris Planes: A Value Guide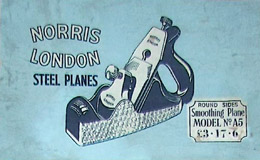 I have included a rough guide to the value of Norris planes below. While it is always difficult to provide a value guide that can be agreed upon by everybody, I have endeavored to offer one here nonetheless — in part to cut down on the many requests for valuations that I have had over the years.
Please remember that it is only a rough guide and that there are so many variables to consider, such as overall condition, rarity, completeness and demand.
STOP PRESS: Until I've sorted this page out properly with my own findings I've decided that, in the interim, I will include the valuations from British dealer Tony Murland Antiques. Murlands has been selling antique woodworking tools for decades and has, arguably, sold more Norris planes than just about anyone else out there; so it's a great starting point for this particular value guide.

| Model Number | Plane Type | Dealer Price | eBay Price |
| --- | --- | --- | --- |
| No. 1 | Panel Plane (13½") | $600-1000 | $ |
| No. 1 | Panel Plane (14½") | $600-1000 | $ |
| No. 1 | Panel Plane (15½") | $600-1000 | $ |
| No. 1 | Panel Plane (16½") | $500-800 | $ |
| No. 1 | Panel Plane (17½") | $700-1000 | $ |
| No. 1 | Jointing Plane (20½") | $1000-1600 | $ |
| No. 1 | Jointing Plane (22½") | $1200-2000 | $ |
| No. 1 | Jointing Plane (24½") | $1600-2800 | $ |
| No. 1 | Jointing Plane (26½") | $2400-3600 | $ |
| No. 1 | Jointing Plane (28½") | $4000-8000 | $ |
| No. A1 | Panel Plane (13½") | $1000-1600 | $ |
| No. A1 | Panel Plane (14½") | $1200-2000 | $ |
| No. A1 | Panel Plane (15½") | $1200-2000 | $ |
| No. A1 | Panel Plane (16½") | $1200-2000 | $ |
| No. A1 | Panel Plane (17½") | $1400-2400 | $ |
| No. A1 | Jointing Plane (20½") | $1600-2400 | $ |
| No. A1 | Jointing Plane (22½") | $2000-3000 | $ |
| No. A1 | Jointing Plane (24½") | $3000-5000 | $ |
| No. A1 | Jointing Plane (26½") | $4000-8000 | $ |
| No. A1 | Jointing Plane (28½") | $6000-10000 | $ |
| No. 2 | Smoothing Plane | $400-800 | $ |
| No. 2 | Smoothing Plane (Patent Metal) | $1400-2000 | $ |
| No. A2 | Smoothing Plane | $1000-1600 | $ |
| No. 3 | Smoothing Plane | $400-800 | $ |
| No. A3 | Smoothing Plane | $1000-1600 | $ |
| No. 4 | Smoothing Plane | $500-1000 | $ |
| No. 4 | Smoothing Plane (Gunmetal) | $1600-2400 | $ |
| No. A4 | Smoothing Plane | $800-1600 | $ |
| No. 5 | Smoothing Plane | $600-1200 | $ |
| No. A5 | Smoothing Plane | $800-1600 | $ |
| No. 6 | Smoothing Plane | $400-800 | $ |
| No. A6 | Smoothing Plane | $1400-2400 | $ |
| No. 7 | Shoulder Plane (6 x ½") | $600-1200 | $ |
| No. 7 | Shoulder Plane (As Above, Skew) | $800-1600 | $ |
| No. 7 | Shoulder Plane (7 x ⅝") | $500-1200 | $ |
| No. 7 | Shoulder Plane (As Above, Skew) | $700-1400 | $ |
| No. 7 | Shoulder Plane (7 x ¾") | $500-1200 | $ |
| No. 7 | Shoulder Plane (As Above, Skew) | $700-1400 | $ |
| No. 7 | Shoulder Plane (8 x 1") | $500-1200 | $ |
| No. 7 | Shoulder Plane (As Above, Skew) | $600-1200 | $ |
| No. 7 | Shoulder Plane (8 x 1⅛") | $400-1000 | $ |
| No. 7 | Shoulder Plane (As Above, Skew) | $600-1200 | $ |
| No. 7 | Shoulder Plane (8 x 1¼") | $400-1000 | $ |
| No. 7 | Shoulder Plane (As Above, Skew) | $600-1200 | $ |
| No. 7 | Shoulder Plane (8 x 1½") | $400-1000 | $ |
| No. 7 | Shoulder Plane (As Above, Skew) | $600-1200 | $ |
| No. A7 | Shoulder Plane (8 x 1") | $800-1600 | $ |
| No. A7 | Shoulder Plane (As Above, Skew) | $2000-3000 | $ |
| No. A7 | Shoulder Plane (8 x 1¼") | $800-1600 | $ |
| No. A7 | Shoulder Plane (As Above, Skew) | $2000-3000 | $ |
| No. A7 | Shoulder Plane (8 x 1½") | $800-1600 | $ |
| No. A7 | Shoulder Plane (As Above, Skew) | $2000-3000 | $ |
| No. 8 | Rebate Plane (6 x ½") | $400-800 | $ |
| No. 8 | Rebate Plane (As Above, Skew) | $500-1000 | $ |
| No. 8 | Rebate Plane (7 x ⅝") | $300-600 | $ |
| No. 8 | Rebate Plane (As Above, Skew) | $400-800 | $ |
| No. 8 | Rebate Plane (8 x ¾") | $200-400 | $ |
| No. 8 | Rebate Plane (As Above, Skew) | $400-800 | $ |
| No. 8 | Rebate Plane (9 x ¾") | $200-400 | $ |
| No. 8 | Rebate Plane (As Above, Skew) | $400-800 | $ |
| No. 8 | Rebate Plane (9 x ⅞") | $200-400 | $ |
| No. 8 | Rebate Plane (As Above, Skew) | $400-800 | $ |
| No. 8 | Rebate Plane (9 x 1") | $200-400 | $ |
| No. 8 | Rebate Plane (As Above, Skew) | $400-800 | $ |
| No. 8 | Rebate Plane (9 x 1⅛") | $200-400 | $ |
| No. 8 | Rebate Plane (As Above, Skew) | $400-800 | $ |
| No. 8 | Rebate Plane (9 x 1¼") | $200-400 | $ |
| No. 8 | Rebate Plane (As Above, Skew) | $400-800 | $ |
| No. 8 | Rebate Plane (9 x 1½") | $400-800 | $ |
| No. 8 | Rebate Plane (As Above, Skew) | $500-1000 | $ |
| No. 9 | Duplex Rebate Plane | $ | $ |
| No. 10 | Mitre Plane | $ | $ |
| No. 11 | Mitre Plane | $4000-8000 | $ |
| No. 11 | Mitre Plane (As Above, Skew) | $6000-10000 | $ |
| No. A11 | Mitre Plane | $10000-14000 | $ |
| No. A11 | Mitre Plane (As Above, Skew) | $14000-20000 | $ |
| No. 12 | Thumb Plane | $ | $ |
| No. 12 | Smoothing Plane | $400-1000 | $ |
| No. A12 | Smoothing Plane | $600-1200 | $ |
| No. 13 | Malleable Iron Smoothing Plane | $400-1000 | $ |
| No. A13 | Malleable Iron Smoothing Plane | $600-1200 | $ |
| No. 13 | Malleable Iron Panel Plane (12½") | $500-1000 | $ |
| No. A13 | Malleable Iron Panel Plane (12½") | $1000-1600 | $ |
| No. 13 | Malleable Iron Panel Plane (15½") | $500-1000 | $ |
| No. A13 | Malleable Iron Panel Plane (15½") | $1000-1600 | $ |
| No. 14C | Ordinary Iron Smoothing Plane | $400-800 | $ |
| No. A14C | Ordinary Iron Smoothing Plane | $600-1200 | $ |
| No. 14 | Malleable Iron Smoothing Plane | $400-800 | $ |
| No. A14 | Malleable Iron Smoothing Plane | $600-1200 | $ |
| No. 14GS | Gunmetal Smoothing Plane | $1200-1800 | $ |
| No. A14GS | Gunmetal Smoothing Plane | $2400-3600 | $ |
| No. 15 | Malleable Iron Smoothing Plane | $600-1200 | $ |
| No. A15 | Malleable Iron Smoothing Plane | $1000-1600 | $ |
| No. 15GS | Gunmetal Smoothing Plane | $1600-2400 | $ |
| No. A15GS | Gunmetal Smoothing Plane | $3000-5000 | $ |
| No. 16C | Ordinary Iron Smoothing Plane | $400-800 | $ |
| No. A16C | Ordinary Iron Smoothing Plane | $600-1000 | $ |
| No. 16 | Malleable Iron Smoothing Plane | $500-1000 | $ |
| No. A16 | Malleable Iron Smoothing Plane | $600-1200 | $ |
| No. 17 | Gunmetal Smoothing Plane | $1400-2000 | $ |
| No. A17 | Gunmetal Smoothing Plane | $2400-3600 | $ |
| No. 18 | Shoulder Plane | $200-450 | $ |
| No. 18 | Shoulder Plane (As Above, Skew) | $300-600 | $ |
| No. 19E | Shoulder Plane | $400-700 | $ |
| No. 19E | Shoulder Plane (As Above, Skew) | $600-1000 | $ |
| No. 19R | Shoulder Plane | $400-700 | $ |
| No. 19R | Shoulder Plane (As Above, Skew) | $600-1000 | $ |
| No. 20E | Shoulder Plane | $500-1000 | $ |
| No. 20E | Shoulder Plane (As Above, Skew) | $600-1200 | $ |
| No. 20R | Shoulder Plane | $500-1000 | $ |
| No. 20R | Shoulder Plane (As Above, Skew) | $600-1200 | $ |
| No. A20E | Shoulder Plane | $1200-2400 | $ |
| No. A20R | Shoulder Plane | $1200-2400 | $ |
| No. 21 | Iron Smoothing Plane | $ | $ |
| No. 22 | Shoulder Plane | $200-400 | $ |
| No. A22 | Shoulder Plane | $ | $ |
| No. 23E | Shoulder Plane | $400-800 | $ |
| No. 23E | Shoulder Plane (As Above, Skew) | $600-1000 | $ |
| No. 23R | Shoulder Plane | $400-800 | $ |
| No. 23R | Shoulder Plane (As Above, Skew) | $600-1000 | $ |
| No. 24E | Shoulder Plane | $500-1000 | $ |
| No. 24E | Shoulder Plane (As Above, Skew) | $600-1000 | $ |
| No. 24R | Shoulder Plane | $500-1000 | $ |
| No. 24R | Shoulder Plane (As Above, Skew) | $600-1000 | $ |
| No. 25 | Malleable Iron Bullnose Plane | $200-400 | $ |
| No. A25 | Bullnose Plane | $ | $ |
| No. 26 | Gunmetal Bullnose Plane | $300-600 | $ |
| No. 27 | Gunmetal Bullnose Plane | $400-800 | $ |
| No. A27 | Gunmetal Bullnose Plane | $2400-3600 | $ |
| No. 28 | Chariot Plane (Iron) | $400-800 | $ |
| No. 28 | Chariot Plane (Gunmetal) | $600-1200 | $ |
| No. A28 | Chariot Plane | $4000-6000 | $ |
| No. 29 | Gunmetal Chariot Plane | $600-1200 | $ |
| No. 30 | Gunmetal Chariot Plane | $600-1400 | $ |
| No. 31 | Thumb Plane (Iron) | $1000-1600 | $ |
| No. 31 | Thumb Plane (Gunmetal) | $2200-4500 | $ |
| No. A31 | Thumb Plane | $4000-10000 | $ |
| No. 32 | Thumb Plane | $1000-2400 | $ |
| No. 48 | Ordinary Iron Smoothing Plane | $800-1400 | $ |
| No. 49 | Ordinary Iron Smoothing Plane | $800-1400 | $ |
| No. 50 | Ordinary Iron Smoothing Plane | $400-1000 | $ |
| No. 50M | Malleable Iron Smoothing Plane | $500-1600 | $ |
| No. 50G | Gunmetal Smoothing Plane | $800-1600 | $ |
| No. 50GS | Gunmetal Smoothing Plane | $800-1600 | $ |
| No. 51 | Ordinary Iron Smoothing Plane | $500-1600 | $ |
| No. 51M | Malleable Iron Smoothing Plane | $500-1600 | $ |
| No. 51GS | Gunmetal Smoothing Plane | $1200-5000 | $ |
| No. 52 | Ordinary Iron Smoothing Plane | $400-1000 | $ |
| No. 52M | Malleable Iron Smoothing Plane | $400-1000 | $ |
| No. 52GS | Gunmetal Smoothing Plane | $1600-3600 | $ |
| No. 53 | Ordinary Iron Bench Plane | $400-1000 | $ |
| No. 53M | Malleable Iron Bench Plane | $400-1000 | $ |
| No. 53GS | Gunmetal Bench Plane | $4000-6000 | $ |
| No. 54 | Annealed Iron Bench Plane | $400-1000 | $ |
| No. 54G | Gunmetal Bench Plane | $8000-12000 | $ |
| No. 60 | Ordinary Iron Smoothing Plane | $1200-2400 | $ |
| No. 60M | Annealed Iron Smoothing Plane | $800-1400 | $ |
| No. 61 | Annealed Iron Smoothing Plane | $800-1400 | $ |
| No. 64 | Annealed Iron Bench Plane | $800-1400 | $ |
| No. A70 | Wooden Smoothing Plane | $300-600 | $ |
| No. A71 | Wooden Jack Plane | $300-600 | $ |
| No. A72 | Wooden Trying Plane | $400-800 | $ |
| | Gunmetal Violin Plane | $300-600 | $ |


Last updated: April 2013


---