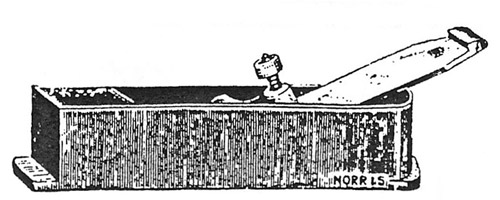 Norris No. 10 Dovetailed Steel Mitre Plane
as illustrated in the 1908 Norris Price List
5 x 1¼, 1⅜, or 1½, to 8½ x 2 inches. Price: 16/6 each.
9 x 2 up to 10½ x 2¼ inches. Price: 17/6 each.
With Skewed Mouth 1/6 extra.
Broader Irons than 2¼ in., 6d. per ⅛ in. extra.
NOTES: These planes a fairly scarce. While similar planes offered by Spiers, Mathieson, Towell and others crop up from time to time, it appears obvious that the No. 10 was not a big seller for Norris and was dropped before the 1914 catalogue. Some examples have stained mahogany infills.

---