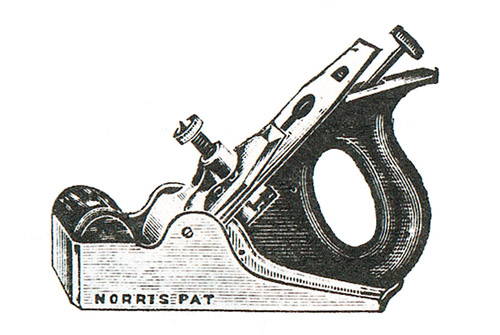 Norris No. 51 Malleable Iron Smoothing Plane
as illustrated in 1914 Norris Catalogue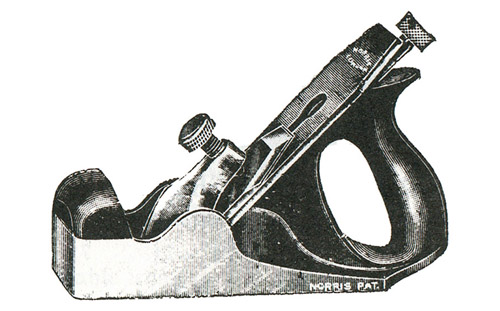 Norris No. 51 Annealed Iron Smoothing Plane
as illustrated in the 1928 Norris Catalogue
Adjustable Planes fitted with Norris Patent Adjustment.
The patent adjustment is an effective device, giving lateral and vertical
movements to the cutter and is controlled by one operating knob.
Fitted with best quality rosewood, gunmetal lever and standard cutters.
Gunmetal, steel faced, parallel sides. 7½" long x 2¼" cutter.
Extra Cutters to fit above planes, 1/10 each.
These (Reg. Design) Improved Planes fitted with the Norris Patent Adjustment and gunmetal lever are first grade tools, well balanced and easy to work. For the general woodworker they are ideal planes and excellent value.
| Cutter Width | 2" | 2⅛" | 2¼" |
| --- | --- | --- | --- |
| Price (1908 Price List) | — | — | — |
| Price (1914 Catalogue) | — | — | 18/6 |
| Price (1928 Catalogue) | 25/6 | 26/6 | 27/6 |
| Price (1930 Catalogue) | 25/6 | 26/6 | 27/6 |
NOTES: This is the parallel version of the Norris No. 50M. Introduced as the Norris No. 51M in the 1914 catalogue, it is probably more commonly found marked with just 51 on the levercap. Often stamped on the toe is is the casting registration "REGD NO. 637729". The length of the plane was 7½".
Like other planes in the '50 series', the cutting iron rests on two metal 'bosses', thus providing great stability. A secondary function of these metal bosses was to secure the closed rear handle, which was sandwiched between them and riveted, screwed or bolted in place. The handle also held the adjuster mechanism.
Examples may have "MALLEABLE", "ANNEALED", "UNBREAKABLE" or "PATENT METAL" stamped on the toe or heel, depending on the era in which the particular plane was manufactured. Levercaps were steel or gunmetal and came with a number of different Norris marks or stamps.
The wood used for the handles and buns were either walnut or mahogany, usually with a dark stain applied.

---