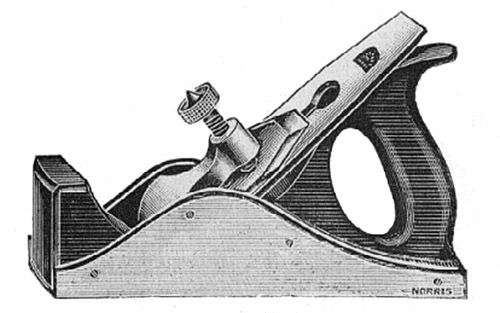 Norris No. 12 iron Smoothing Plane
as illustrated in the 1914 Norris Catalogue
Fitted with rosewood and gunmetal lever. Closed handle.
Extra Cutters to fit above plane 1/10.
| Cutter Width | 2" | 2⅛" | 2¼" |
| --- | --- | --- | --- |
| Price (1908 Price List) | — | — | — |
| Price (1914 Catalogue) | — | — | 16/6 |
| Price (1928 Catalogue) | — | — | 32/- |
NOTES: Introduced just prior to the 1914 catalogue, the Norris No. 12 smoothing plane took over the model designation for the No. 12 dovetailed thumb plane, once that model had been discontinued as a standard issue in the catalogues and price lists. The No. 12 smoothing plane was an all cast iron affair which adopted its basic design aesthetics from that of Henry Slater, a London planemaker residing in nearby Clerkenwell. As Slater was probably, in all likelihood, winding up his plane making business by 1914 he may have not have minded much at all. In fact it's not entirely inconceivable that Norris bought out the remaining castings from Slater. There had been similar Norris-made No. 12 styled planes appear prior to 1914. These earlier 'versions' have cast iron uprights which serve as the bed, or frog, rather than an all wooden one. The uprights are similar in design to the Slater planes of earlier years and, if they were purchased from Slater, were probably sold as prototypes or in small numbers to the public.
The No. 12 smoothing plane was, to our knowledge, only offered in one size — 9" long with a 2¼" cutter — and an adjustable version was not featured in the 1914 catalogue but had made an appearance by the 1928 catalogue. By then the ordinary cast iron version in the 1914 catalogue had become an annealed iron version by 1928.
Not as common as other Norris planes, the No. 12 is quite collectable and seems to fetch good prices when offered for sale or auction.

---