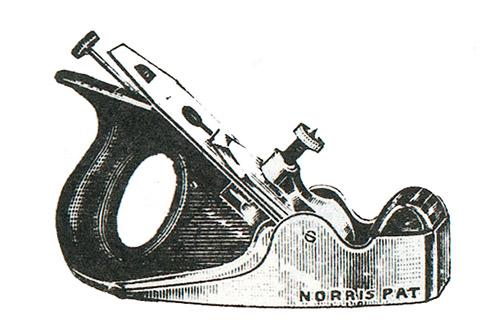 Norris No. 48 Malleable Iron Smoothing Plane
| Cutter Width | 2" | 2⅛" | 2¼" |
| --- | --- | --- | --- |
| Price (1908 Price List) | — | — | — |
| Price (1914 Catalogue) | — | — | — |
| Price (1928 Catalogue) | — | — | — |
| Price (1930 Catalogue) | — | — | — |
NOTES: This plane was not offered in any known Norris price list or catalogue. Existing models have been found with casting registration no. 637728 stamped on the toe.
Construction and basic design of the No. 48 is similar to the Norris No. 50 series of cheaper, post World War 1 planes. As mentioned in the No. 50 page, these designs were Norris originals and therefore did not copy any other maker in particular.
All of the examples i've seen of this plane seem to feature dark stained walnut or mahogany for their infills. I cannot recall seeing one with a rosewood infill, but anything is possible.
Similar to the bed in other 50 series planes, the cutting iron rested on two metal 'bosses' which provided great stability. A secondary function of these metal bosses was to secure the closed rear handle, which was sandwiched between them and riveted, screwed or bolted in place. The handle also held the adjuster mechanism.
Levercaps were gunmetal and came with a number of different Norris marks or stamps.

---