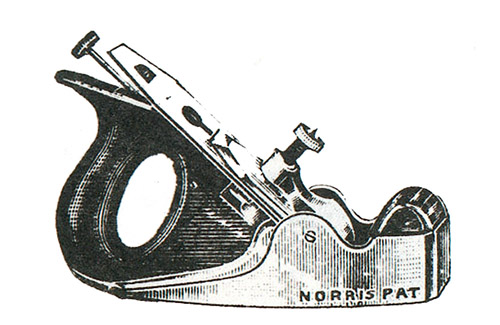 Norris No. 50 Iron Smoothing Plane
as illustrated in the 1914 Norris Catalogue
Adjustable Planes fitted with Norris Patent Adjustment.
The patent adjustment is an effective device, giving lateral and vertical movements to the cutter and is controlled by one operating knob.
Fitted with best quality rosewood, gunmetal lever and standard cutters.

Ordinary iron, round sides. 7½" long x 2¼" cutter.
| Cutter Width | 2" | 2⅛" | 2¼" |
| --- | --- | --- | --- |
| Price (1908 Price List) | — | — | — |
| Price (1914 Catalogue) | — | — | 16/6 |
| Price (1928 Catalogue) | — | — | — |
NOTES: By 1928 the Number 50 was replaced with an Annealed model (previously the 50M) but retained the same No. 50 model designation. For more information, check out the Norris No. 50M page.
The Norris No. 50 iron smoothing plane was introduced into the Norris lineup sometime after 1913. Unlike earlier-numbered planes in the Norris range (No. 14, No 16), there was no "C" added to the model designation.
With its patented Norris adjuster, the No. 50 was a popular hand plane and sold in relatively good numbers. This plane, along with the other '50 series' planes had a better chance at competing with the popular Stanley-type hand planes now on the market, even though they still cost significantly more than a typical Stanley plane of the time.
Design-wise, the '50 series' was a Norris original and did not copy any other maker in particular. Indeed many of the designs for Norris's cast iron smoothing planes were completely original, unlike the patterns used in their dovetailed range.
The front bun and rear handle were made from a variety of timbers, such as rosewood (early on) and mahogany or walnut in later planes. Often the lighter-coloured timbers were stained darker to match the look of rosewood.
Rather than a wooden infill, the cutting iron rested on two metal 'bosses' and provided great stability. A secondary function of these metal bosses was to secure the closed rear handle, which was sandwiched between them and riveted, screwed or bolted in place. The handle also held the adjuster mechanism.
Levercaps were gunmetal and came with a number of different Norris marks or stamps. The length of the plane was 7½".

---