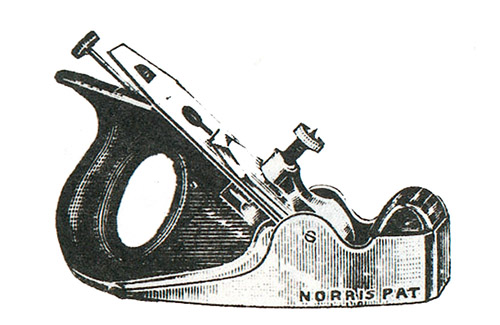 Norris No. 50M Malleable Iron Smoothing Plane
as illustrated in the 1914 Norris Catalogue
Adjustable Planes fitted with Norris Patent Adjustment.
The patent adjustment is an effective device, giving lateral and vertical movements to the cutter and is controlled by one operating knob.
Fitted with best quality rosewood, gunmetal lever and standard cutters.
Malleable / Annealed iron, round sides. 7½" long.
These (Reg. Design) Improved Planes fitted with the Norris Patent Adjustment and gunmetal lever are first grade tools, well balanced and easy to work. For the general woodworker they are ideal planes and excellent value.
| Cutter Width | 2" | 2⅛" | 2¼" |
| --- | --- | --- | --- |
| Price (1908 Price List) | — | — | — |
| Price (1914 Catalogue) | — | — | 18/6 |
| Price (1928 Catalogue) | 30/6 | 31/6 | 32/6 |
NOTES: Introduced into the Norris lineup prior to the 1914 catalogue, the round sided No. 50M quickly became one of Norris's most successfully marketed planes. Although still quite expensive for the time, the No. 50M bridged the gap between the popular Stanley-type handplanes that were now flooding the British market, and the more upmarket dovetailed infill planes. Having said that, the No. 50M, along with the ordinary cast iron No. 50 and the steel faced gunmetal No. 50GS, sold in relatively large numbers.
Initially with just the one size it came with a 2¼" wide cutting iron, but by 1928 the plane was made available in three different sizes, a 2" and 2⅛" wide cutter joining the range. By now, however, the No. 50M had become simply the No. 50 and had become an annealed casting.
The choice of wood for the handle and bun was rosewood early on, though later the planes would be supplied with either a mahogany or walnut handle and bun. Because of the nature of the casting, the cutting iron rested on two metal 'bosses' which acted much like the frog in a Stanley-type plane. These metal bosses were also instrumental in securing the rear handle, which was sandwiched between them. The adjuster mechanism was then secured to the rear handle in much the same way as it would have been secured to a rear infill.
The front bun was overstuffed in the same manner as the dovetailed smoothing planes and the rear of the casting was japanned, primarily in a mid to dark brown colour. The Norris stamp on the levercap came in a variety of styles, as can be seen in the images below.

---